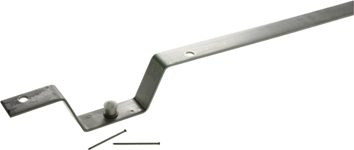 Connection lug M10, length 2 m
Article number: 48008N
Eldas number: 156940207
Consisting of a 2 m long, easily bendable, stainless steel strip 30 × 3 mm incl. fixing material to the formwork. The upper end with M10 press-in nut is fixed to the formwork. The nut is used to attach a support rail for the terminals of the earth conductors, protective conductors etc. or as a connection for a disconnecting device for lightning protection systems. For connecting foundation earth electrodes (strip or reinforcing steel) to the connection points on the wall surfaces inside or outside the building.
Tender text
Connection lug M10, length 2 m (48008N):
This product is a member of the following product systems

This overview focuses on the importance of connection points as a central element for a permanent earthing connection. It explains why they must be watertight and corrosion-resistant and must be able ...